---
Sunset Unlimited's Emporium

Meldetta's Auction Outlet

MyCheapMakeup.com

Forest Children

Crystal's Knife Shoppee

Cathy's' Curio Closet

Doug's Tool Shed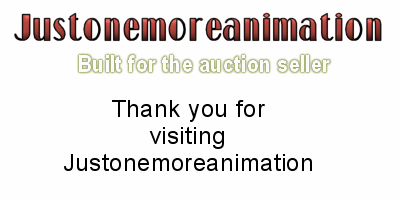 IMPORTANT TERMS FOR USING THESE FREE AUCTION TEMPLATES
THE TEMPLATES ARE FREE FOR YOU TO USE ON ALL YOUR AUCTIONS.

YOU CAN NOT RESELL ANY TEMPLATE FROM JUSTONEMOREANIMATION.

YOU CAN SHARE ALL FREE TEMPLATES WITH YOUR FRIENDS.

YOU CAN ALTER ALL FREE TEMPLATES, HAVE FUN WITH THEM.

YOU CAN NOT REMOVE THE COPY RIGHT LINK AT THE BOTTOM OF EACH TEMPLATE. THIS IS WHAT HELPS KEEP THEM FREE. REMOVING THIS CONSTITUTES A VIOLATION OF THESE COPY RIGHT TERMS AND WILL BE REPORTED.
BY USING A FREE TEMPLATE, YOU AGREE TO THESE TERMS. ENJOY !!
---
HTML Practice Board

Easy Template Tutorial

Free Auction Resources

Internet Auction Directory

eBay.com

Get cash back on all your eBay purchases!
Search all of Justonemoreanimation