FREE template tutorial for Turbo Lister 2
You may be able to use most of this to use on the regular Turbo Lister as well.

I have used many screen shots to make this as painless as possible. If you have any questions, feel free to visit me on eBay anytime. I will be happy to assist you in any way that I can.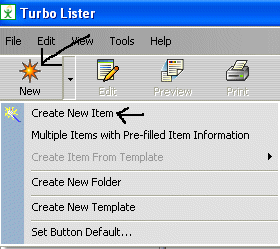 Click on NEW then "create New Item". This may open a new window for you to pick a file to save your listing in.
This will open up the window to create your new listing. You will be able to type in all your important listing information, such as shipping, payments, ect. right in the template. You will also be inserting your pictures into the template as well. This is what is going to save you a lot of money because this way it is completely free and you can add as many photos as you like.

Once you have all your other information inserted, click on the "description Builder" button under the description area. Don't worry about the pictures. You will be inserting them in here.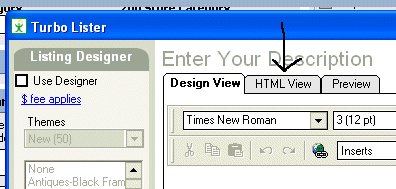 Once the new window opens up in the description builder, you want to click on the HTML View. In the very first text box you want to paste the entire HTML code of your template.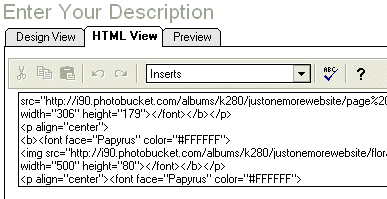 Here is an example of how it should look with the codes pasted in the HTML view area.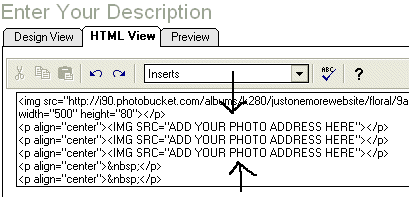 Now you want to scroll near the top of your html code and find the 3 picture places that look just like in the image to the left. Here is where you want to copy the "direct link" address from your picture in your photobucket account. Or, if you are using another hosting site, you want to use the url address for your picture. Erase the ADD YOUR PHOTO ADDRESS HERE and replace with your picture address. Below is an example of the address you use from photobucket.com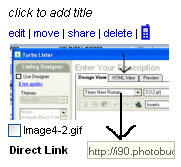 Once you have inserted all your pictures, you can click on the "design view" and preview your template, as shown below. You may have to open your window full size to see the entire template. You can do this by grabbing a corner of your window and dragging it to a larger size. All templates, including the updated ones from justonemoreanimation.com, are sized at 1000 pixels to fit most monitors. If you are having to scroll a little in your editing window, chances are you will not once it is published to eBay.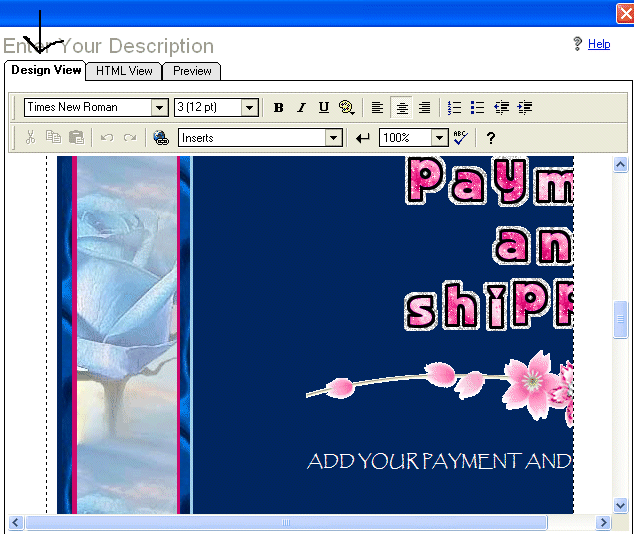 While you are in the view mode, you can type in all your description and other information.

To type in your information, for example your description, just erase where I have "ADD YOUR DESCRIPTION HERE" and type in your information. You can easily edit the size, color, and font of your text by highlighting your text and picking your options as shown in the image below. When you are all finished editing your listing, you can click the PREVIEW at the top left corner to preview your listing. Save and continue as normal and you are good to go.

If you like creating your listings directly in eBay, Turbo Lister is a great place to create your listings first. Then, all you have to do is go to list as normal in eBay and in the description part, copy your template code from Turbo Lister and paste into your listing in eBay, fill in your remaining information and you are good to go.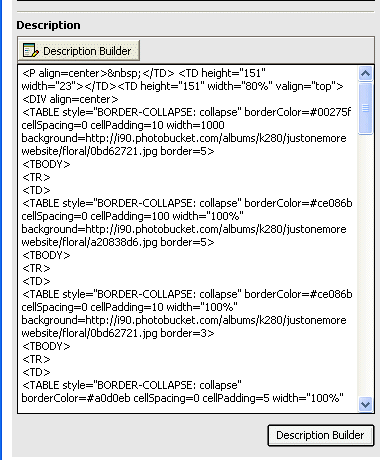 I hope I have helped your listings become a little easier for you.